Geist and The Walrus: Get Two 1-Year Subscriptions for only $35!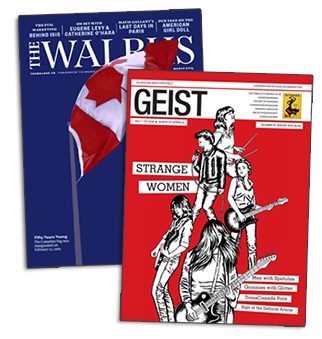 Dear %%$first%%,
Koo-koo-ka-choose* this great deal for lovers of Canadian ideas and culture: Geist and The Walrus, together at last.
Get two 1-year subscriptions for only $35—that's 14 issues of great Canadian magazines for one low price!
Geist brings you smart fiction, irreverent essays and stunning photography; The Walrus brings you well-considered long-form journalism and illustration from up-and-coming Canadian artists.
Click below to order a 1-year subscription to both Geist and The Walrus for only $35.



Click here for orders outside of Canada.
*Accuracy of "koo-koo-ka-choo" over "goo goo g'joob" has yet to be verified.