Get a free issue of Geist 97 & The Syrup Trap when you subscribe!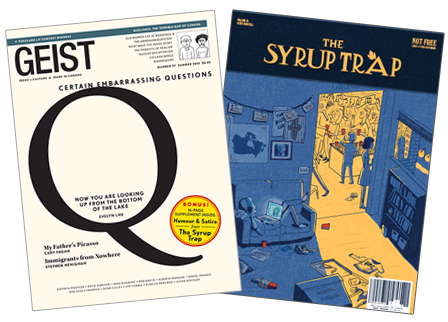 Geist 97 is the funniest issue of Geist yet, featuring a bonus 16-page supplement from Canada's hottest humour magazine, The Syrup Trap.
The Syrup Trap supplement delivers short fiction, satirical news, cartoons, biblical mad libs, useless coupons, hot new salad tips and more. And, of course, Geist features the best fact, fiction, poetry, photography and comix from the usual suspects.
For a limited time, you can get a copy of Geist 97 FREE when you subscribe for only $25!
Get 6 issues of Geist, plus this very funny issue, for only $25 when you order today.


Click here for orders outside of Canada.

You can also call 1-888-434-7834 to order over the phone, or email subs@geist.com with any questions.