Get one-year subscriptions to Geist & subTerrain for $25!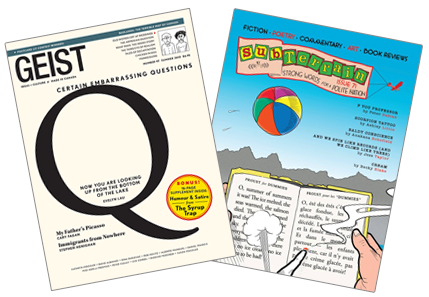 Dear %%$first%%,
Get your culture mag fix with the spirit (Geist) of the underground (subTerrain)! This week only, you can subscribe to two great Canadian magazines for only $25!
Geist publishes fact + fiction, weird photography, strange cartography and Canada's most difficult crossword puzzle.
subTerrain publishes thought-provoking poetry, writing and visual art that challenges the status quo of the literary landscape in Canada and abroad.
Click below to order one-year subscriptions to both Geist and subTerrain for only $25.