Welcome to the Geist fold —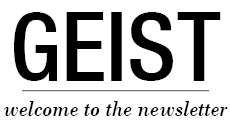 ---
The finger on the pulse of all things Geist.
Geist is a magazine of ideas and culture in which readers, writers, photographers and cartoonists discuss theories of North, Leonard Cohen's suits, Indian hobbyists, ectoplasmic photography, Mountie postcards, Margaret Atwood's hair and more of the weird and wonderful from the world of words.

The Geist Newsletter takes all of that, adds literary news and events from across Canada, writing contest updates, advice and tips for writers and special subscription offers, and throws it into a curated email delivered to your inbox every Thursday.

Below is a sample of some of our favourite essays, reviews, poetry, short stories and other pieces of miscellany from geist.com—a taste of the newsletter yet to come.
---
MOST POPULAR ESSAY


How I (Finally) Met Leonard Cohen
On a rainy night in October 1970, Ann Diamond crosses paths with Canada's most elusive poet.

BEST REVIEW


Canadian Ten-Dollar Bill
Stephen Osborne reviews the "miserable-looking coupon" that is the new Canadian ten-dollar bill.

STAFF FAVOURITE


Waiting For Our Lord God Jesus Christ…
…in the Maple Leaf Lounge at the John G. Diefenbaker Airport in Saskatoon, Saskatchewan.

POPULAR FICTION


Sweet Affliction
"The documentary filmmaker, a jean-jacketed young woman with a silver crescent in her nose, wanted me to Share My Story." —Anna Leventhal

WITTY POETRY


McPoems
Billeh Nickerson's poetry from the point of view of a McDonald's employee—drunk clowns, old men who order 100 cheeseburgers and one very sad Wonder Woman.

---

Are you a writer? Do you have a writing question, conundrum, dispute, dilemma, quandary or pickle?

Geist offers free professional advice to writers of fiction, non-fiction and everything in between, straight from Mary Schendlinger (Senior Editor of Geist for 25 years) and Geist editorial staff, every week in the Geist Newsletter.

Read every existing Lit-Lorn query here.

---

Click here to unsubscribe from the Geist Newsletter.

Geist, 210-111 West Hastings Street, Vancouver, BC V6B 1H4
Geist respects subscriber privacy and will never share your information.

Contact Us