Treat your eyes and your ears with Geist & Musicworks.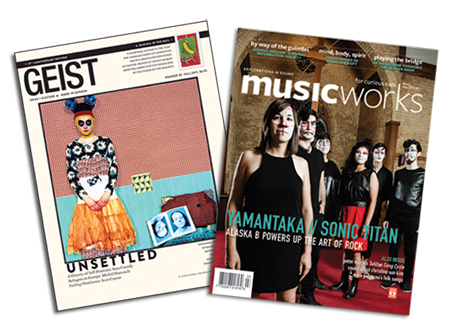 Fill your head with the words and sounds of Canadian culture with a subscription to Geist and Musicworks for only $45!
Musicworks is Canada's leading voice in experimental music and sound art. Each issue comes with a companion CD to tantalize curious listeners with innovative sounds and stories from emerging and established musicians, composers, improvisers and instrument designers.
Geist is the Canadian magazine of ideas and culture—fact + fiction, photography and comix, essays, reviews, and the weird and wonderful from the world of words.
Geist+Musicworks—a harmony of ideas, culture and music.
Get a one-year subscription to both Geist and Musicworks for a song—only $45! ($55 for subscribers outside Canada).


Click here for orders outside of Canada.
You can also call 1-888-434-7834 to order over the phone, or email subs@geist.com with any questions.