Celebrate or mourn the election results with a stiff drink from a Geist mug.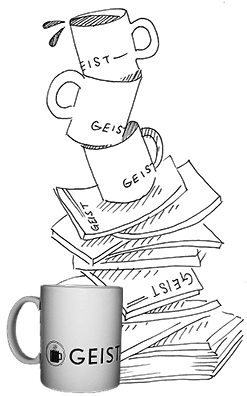 Geist is here to help steer you through your electoral thrills or woes with a beautiful Geist mug and a 6-issue subscription to Canada's magazine of ideas and culture, for only $25!
Trudeaumania 2.0 is here, and whether you want to make a toast or drown your sorrows, you're going to need a drink of some kind, and the white porcelain Geist mug holds all liquids (especially really, really hot ones) with style and discretion.
Get a Geist mug and a 6-issue subscription for only $25 and wet your Canadian culture whistle.
Like Trudeaumania, the Geist mug is available to Canadian residents only.

You can also call 1-888-434-7834 to order over the phone, or email subs@geist.com with any questions.