Whether you're from Killoween, NB, Terror Island, NT,
Ghoul Lake, ON, or anywhere in between, this offer is for you!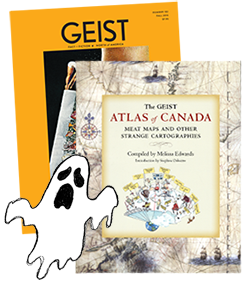 Take advantage of the Geist Hallowe'email Atlas Offer and receive a FREE Geist Atlas of Canada.
Subscribe today for $44 and get 12 issues of Geist, plus The Geist Atlas of Canada FREE.
The Geist Atlas of Canada is packed with 50 strange cartographies from above the 49th parallel, including the Apocalypse Map of Canada, the Map of Body Parts and, of course, the Spooky Map of Canada.





You can also call 1-888-434-7834 to order over the phone, or email subs@geist.com with any questions.
Offer valid until November 1, 2016, 11:59 p.m.