The Geist Good Karma Deal—give a subscription, get yours for free!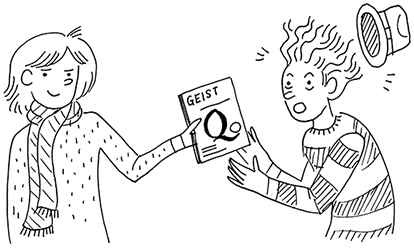 Generosity is its own reward, but Geist wants to give you something extra! For one week only, give a Geist gift subscription for only $21 and get your own subscription or renewal for free!
Geist is the perfect gift for the readers and writers in your life—whether it's your friend, family member, pen pal, dentist, or that friendly guy in your building who thinks your name is Jamie. You'll earn their undying gratitude, plus your own set of Geist magazines to read along with them!
Give a Geist gift subscription today and we'll send your giftee an elegant card letting them know of your year-long gift to them, plus we'll sign you up for a year-long subscription, all for only $21! Reap the benefits of good karma instantaneously—Order now!
Give a Geist gift subscription for only $21, get your own for free!


Click here for orders outside of Canada.
Ordering instructions: In PayPal, enter your giftee's address into the Shipping Address field, and your own address into Billing Address field.
You can also call 1-888-434-7834 to order over the phone, or email subs@geist.com with any questions.