Last Chance to Give—December 19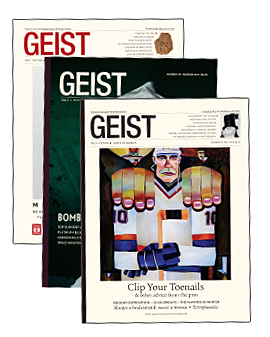 Dear %%$first%%,
Purchase gift subscriptions before December 19 to ensure your recipients get gift cards in time for the holidays!
Geist subscriptions are easy to give and a pleasure to receive. Order today to get 50% off the newsstand price and treat your friends and family (and yourself) at this once-a-year rate.
We'll send each person on your list an elegant card letting them know of your year-long gift to them.
Order today so that your friends can continue to enjoy Geist's sumptuous mix of fact + fiction, photography and comix, and the weird and wonderful from the world of words.