Get Geist 99 FREE when you subscribe for 6 issues at $25!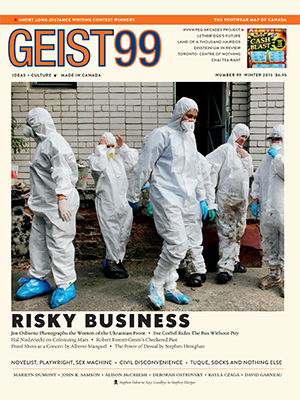 Geist 99 features the weird and wonderful from the world of words, art and photography:
Robert Everett-Green's checkered past
Lydia Kwa's linguistic tantrums
Rita Leistner searches for Marshall McLuhan in Afghanistan
Kayla Czaga and the case of the drunk uncle
More questions from Rob Kovitz
Stephen Osborne says goodbye to Stephen Harper
Women at war by Jen Osborne
Notes on the spacetime queertinuum
Eve Corbel riding the Bus Without Pity
The Footwear Map of Canada
Winners of the Short Long-Distance Writing Contest and the 37th Annual 3-Day Novel Contest
AND:
Off-beat fiction + non-fiction, comix, poetry, essays and reviews from the usual and unusual suspects.
Subscribe now for 6 issues at $25 and get Geist 99 free!



Click here for orders outside of Canada.
You can also call 1-888-434-7834 to order over the phone, or email subs@geist.com with any questions.