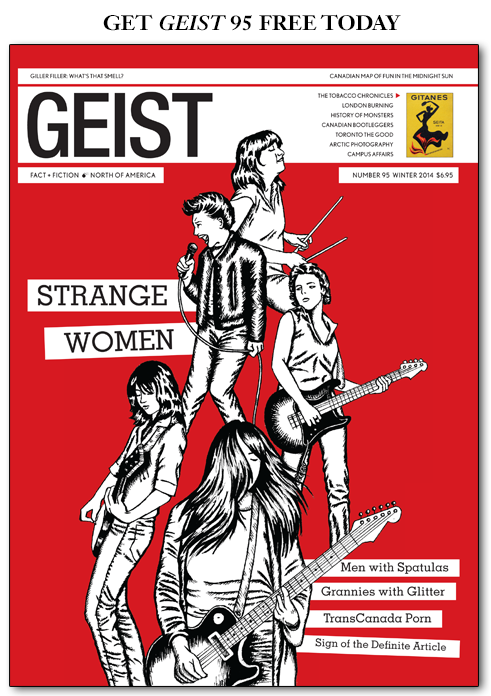 Get Geist 95 FREE when you subscribe for 6 issues at $25!
Check out Geist 95, our loudest issue yet, featuring:
Connie Kuhns on punk, politics and feminism
George Webber: TransCanada Porn
New fiction from Brad Yung
The Arctic photography of Bogdan Luca
Mary Schendlinger on being trapped in a SkyTrain car
Stephen Osborne: dog walkers, writing guides and the THE building
Stephen Henighan on hounders, gropers and bullies on campus
31 nanas in one photograph
Diana Fitzgerald Bryden smells pungent success at the pre-Giller Party
David Albahari's child-free neighbourhood
Winners of the Tobacco Lit Writing Contest
...PLUS great writing, photography, art and little-known facts of interest from the usual and unusual suspects
Subscribe to Geist for 6 issues at $25 and receive Geist 95 FREE.
We'll ship your copy of Geist 95 as soon as you place your order.


(Click here for shipping outside of Canada)
Clicking above will take you to a secure PayPal server
where payment may be made by credit card or through a PayPal
account—you do not need a PayPal account to use this service.