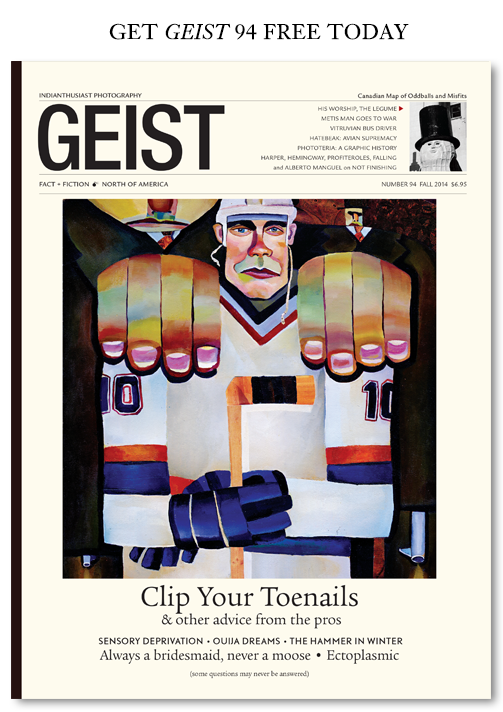 Get Geist 94 FREE when you subscribe for 6 issues at $25!
Geist 94, our new fall issue, is hot off the press, featuring:
European Indianthusiasts photographed by Jen Osborne
Stephen Smith on the hockey lives of Barthes, Faulkner and Hemingway
Deirdre Dore on the baby who holds the answers to life's questions
The ectoplasmic photography of Dr. T. Glen Hamilton
Eve Corbel on Ouija board milestones
Jerome Stueart's Vitruvian bus driver sketches
Vivek Shraya on The Only Other Gay in Edmonton
Priscila Uppal on encounters with runaway Brazilian mothers
The hurricane diaries of Jan Feduck
Stephen Osborne on Hemingway, Harper, profiteroles and other dreams
Thinking about moose with Greg Santos
PLUS dozens of reviews, letters and findings from around the world.
(See complete Table of Contents here)
Subscribe to Geist for 6 issues at $25 and receive Geist 94 FREE.
We'll ship your copy of Geist 94 as soon as you place your order.