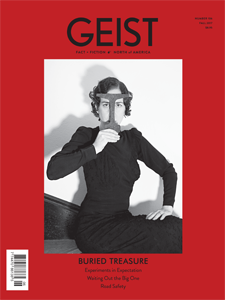 Geist 106 has arrived! Like the falling leaves reveal bare bark, this issue will expose some buried treasure of the past and the present. This is the second issue that is curated by our inaugural editor-in-residence, Jordan Abel, a Nisga'a poet and author of Injun, which won the prestigious 2017 Griffin Poetry Prize. Unearthed in Geist 106: the winners of the 13th Annual Literal Literary Postcard Contest; a folksinger reflects on love and loss in "Folk Song" by Stephen Smith; Carol Sawyer explores the exclusivity of modernism in The Natalie Brettschneider Archives; Mary Schendlinger shines a light on the under-appreciated Blanche Knopf. Uncover a wealth of art, photography, little known facts of interest and some damn fine writing in Geist 106.
Subscribe now for 6 issues at $27 and we'll set aside a free copy of Geist 106 just for you—that's $5 off our usual subscription rate, plus a free issue.


Click here for orders outside of Canada.
You can also call 1-888-434-7834 to order over the phone, and check out our Subscription FAQ if you have any questions.