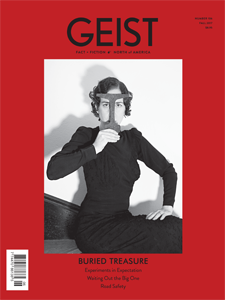 You look as if you've seen a Geist!
In celebration of the spookiest time of year, we've conjured up a deal for you. Subscribe to Geist for 6 issues at $27 and a copy of Geist 106 will materialize in your mailbox—free!
Geist is your quarterly cauldron of fact, fiction, poetry, photography, little known (and sometimes creepy) facts of interest and more from earthly realms and beyond.
No need to shiver with anticipation—get Geist today. Subscribe now and receive 6 ectoplasmic issues at $27, save $5 off our usual subscription rate, plus get a free issue.


Click here for orders from other realms (outside Canada).
You can also call 1-888-434-7834 to order over the phone, and check out our Subscription FAQ if you have any questions.