Receive a free copy of Geist 104 when you subscribe for 6 issues at $27!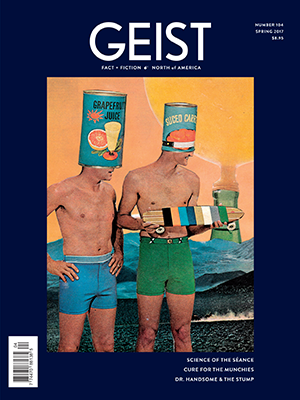 Geist 104, our spring issue, features the weird and wonderful from the world of words, art and photography:
Jonah Samson's vintage found photography after Waiting For Godot
Downtown East Side poetry suite by Henry Doyle
A history of Canadian snack food by Janis Thiessen
New short fiction by Shannon Webb-Campbell
Evel Economakis lives the life of a materiel marauder in Russia
Barbara Zatyko wakes up with nine fingers after a dog bite
Beth A. Robertson on the exclusion of women from the study of psychic phenomena
Veronica Gaylie sings the praises of the omnipresent plaid jacket
Merilyn Simonds on Plato, Socrates and saying "no" to the written word
Leonard Bilski gives helpful tips on things not to do in prison
Stephen Henighan investigates crude first steps towards talking about racial reality
AND:
Fact + fiction, comix, poetry, essays and reviews from the usual and unusual suspects.
Subscribe now for 6 issues at $27 and we'll set aside a free copy of Geist 104 just for you—that's $5 off our usual subscription rate, PLUS a free issue!



Click here for orders outside of Canada.
You can also call 1-888-434-7834 to order over the phone, and check out our Subscription FAQ if you have any questions.