Receive a free copy of Geist 103 when you subscribe for 6 issues at $20!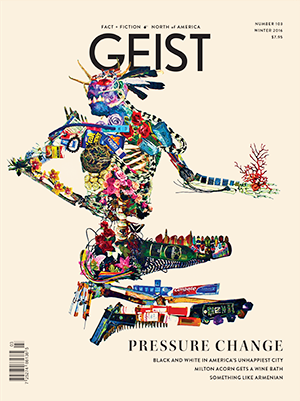 Geist 103, our winter issue, features the weird and wonderful from the world of words, art and photography:
Terence Byrnes' photographic memoir of black and white in America's unhappiest city
Winners of the Can't Lit Without It CanLit Short Story Contest
Evelyn Lau navigates nervous tics and the Home Depot flooring aisle
Burnt forest photography by Brian Howell
Michał Kozłowski reports on the sights and sounds of Parliament Hill—Velveeta, pansy shoes and Hunter S. Thompson
Mary Schendlinger goes on a London Library caper
Sky Gilbert attends a bisexual support group
Christopher Gudgeon decorates Milton Acorn's hair with eagle feathers
Eva H.D. on thinking about the Toronto Maple Leafs in bed
One Great Country! The Weakerthans Map of Canada
AND:
Fact + fiction, comix, poetry, essays and reviews from the usual and unusual suspects.
Subscribe now for 6 issues at $20 and we'll set aside a free copy of Geist 103 just for you. This offer is exclusive to Geist email list subscribers!



Click here for orders outside of Canada.
You can also call 1-888-434-7834 to order over the phone, and check out our Subscription FAQ if you have any questions.