Reserve your copy of Geist 102 when
you subscribe for 6 issues at $25 $20!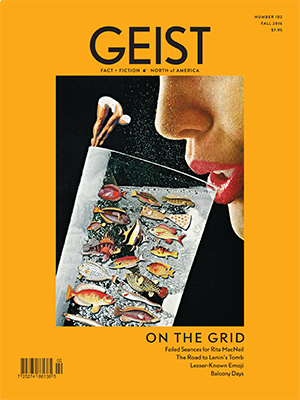 Geist 102 features the weird and wonderful from the world of words, art and photography:
Hinterland Who's Who poetry by C.R. Gilpin
Brent Lewin's Hong Kong neon photography
Failed Seances for Rita MacNeil by Lucas Crawford
Eve Corbel's lesser-known emoji
Michał Kozłowski on the road to Lenin's tomb
A new flow chart by leannej
New short fiction by Richard Kelly Kemick
Arthur Manuel's takeover of the Department of Indian Affairs
Stephen Henighan on writing what you can imagine
Riel Benn's Classic Rock series
AND:
Off-beat fiction + non-fiction, comix, poetry, essays and reviews from the usual and unusual suspects.
Subscribe now for 6 issues at $25 $20 and we'll set aside a free copy of Geist 102 just for you—you'll get it hot off the press, before it even hits newsstands.



Click here for orders outside of Canada.
You can also call 1-888-434-7834 to order over the phone, or email subs@geist.com with any questions.