Get Geist 101 FREE when you subscribe for 6 issues at $20!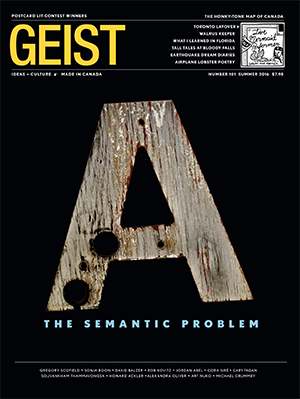 Geist 101 features the weird and wonderful from the world of words, art and photography:
Winners of the 12th Annual Postcard Story Contest
Cary Fagan on sideshow oddities and a Jewish Huck Finn
Dreams on the Richter scale collected by Rick Maddocks
Eve Corbel searches for the perfect man-purse
Vodka, deceit and walrus death at the Moscow Zoo
Jill Mandrake's typewriter poetry
Billeh Nickerson's lobster revenge fantasies
New fiction by Curtis LeBlanc
Michał Kozłowski battles a rodent infestation with peanut butter traps
Atomic bomb paintings by Art Nuko
Scenic views and drunk passengers on a cross-Canada train with David Look
AND:
Off-beat fiction + non-fiction, comix, poetry, essays and reviews from the usual and unusual suspects.
Subscribe now for 6 issues at $20 and get Geist 101 free!



Click here for orders outside of Canada.
You can also call 1-888-434-7834 to order over the phone, or email subs@geist.com with any questions.