Subscribe now and get the Eve Corbel True Funnies Bundle—Geist 97 + a True Funnies Tote Bag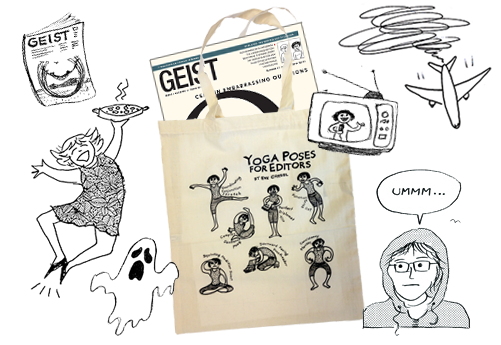 For the next week only, when you subscribe to Geist or renew your subscription for only $25, you'll receive the Eve Corbel True Funnies Bundle, complete with a True Funnies tote bag and a copy of Geist 97!
Geist 97 features Corbel's humorous and touching comic "Old Women Cry at Weddings" and it fits perfectly in the stylish and handy True Funnies tote bag.
Subscribe today and you'll receive 6 issues of Geist, beginning with Geist 97, plus an authentic and rare True Funnies tote bag for only $25! Don't miss out on this limited time offer, or you'll end up in tears like a… well, you know.
More of Eve Corbel's work can be read at geist.com.


Click here for orders outside of Canada.

You can also call 1-888-434-7834 to order over the phone, or email subs@geist.com with any questions.