Get the 6-Issue Print+Digital Bundle for Only $20—
Exclusive to Newsletter Readers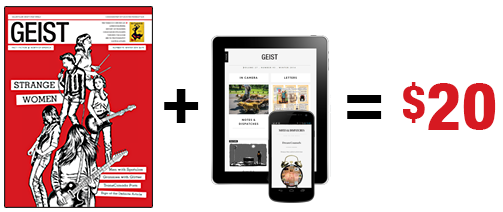 Dear %%$first%%,
We have officially launched the Geist Reader App for tablets and smartphones!
Geist Newsletter readers are entitled to an extra-special deal: use the coupon code BUNDLEPROMO to get our 6-issue Print+Digital Bundle for only $20!
Click below to order today and learn more about how you can use our exciting new Reader App.
BONUS: Before you subscribe, download the Geist Reader App in the iTunes Store or Google Play to read Geist 95 FREE.